Преглед на Kaspersky Password Manager: кратко експертно изложение
Kaspersky has been around for decades and is a brand name that's trusted by millions of users around the world. While it started out with highly effective antivirus platforms, it's since expanded into a wide array of products, from cloud-based security, to password managers and beyond.
The Kaspersky password manager is available in two versions, the free version and the paid or premium version. With the free version, you can add up to 15 passwords, credit cards, notes, images or addresses to your vault. I think this is a better approach to a free version, unlike others that limit features and functions (F-Secure, for example).
With Kaspersky, you actually have to download and install the free version to your system in order to buy the premium version anyway, so it's a good place to start. Upgrading to premium is quick and easy and opens up all the features you need without any limits (as in the free version). I bought the upgrade and gave the Kaspersky password manager a full test run, which you can read here.
I've reviewed and tested well-over 70 of the best password managers available, so you can get a clear idea of what will work for you, and what won't.
Kaspersky Password Manager Features
While Kaspersky's password manager may not have all the functions of Dashlane, Keeper or Sticky Password, it still delivers everything in a day-to-day password manager. All of the main bases are covered in an easy to use toolbar menu including password management, credit card and document storage, auto sync and autofill, password strength checker, password generator and more. I highlight some of the standout features below.
Kaspersky Vault Feature
The vault is at the heart of the Kaspersky password manager platform, and it's where you can store all of your passwords, credit cards, documents and special notes, addresses, key applications and even images.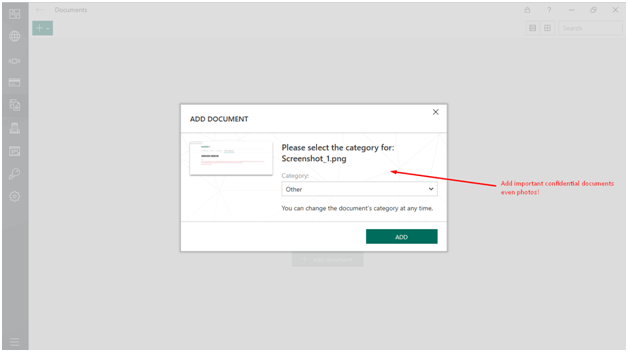 I found a surprisingly nice additional feature with Kaspersky's vault which allowed me to autofill information in offline mode, just as though I was actually in my browser. Most password managers (even the good ones) don't allow this, and require you to copy and paste passwords into your vault when in offline mode. That's a win for Kaspersky!
Password Strength and Password Generator Feature
Let's face it, while we always want the most features possible for the price, i.e. the "biggest bang for your buck" syndrome, the core feature of a password manager has to be with evaluating existing passwords and creating new, stronger ones. I'm not always happy in this regard but found that Kaspersky does both rather well.
First, you can import your passwords to Kaspersky's PM and use the password check feature to assess the strength of your chosen password. Kaspersky will then give you a strength rating as well as include the option to generate a new password for that specific account. The generated password will always be much stronger than anything you might come up with yourself, since it relies on a random string sequence.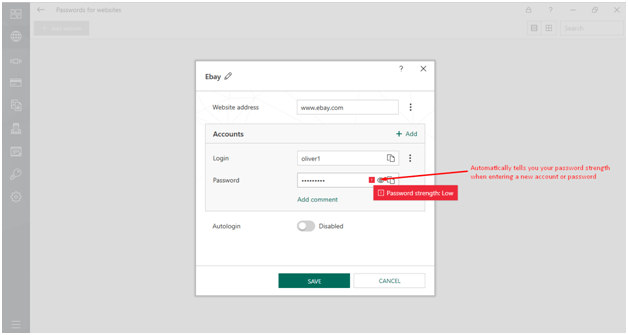 Once you've let the system analyze your password strength, generating a brand-new, stronger password is quick and easy: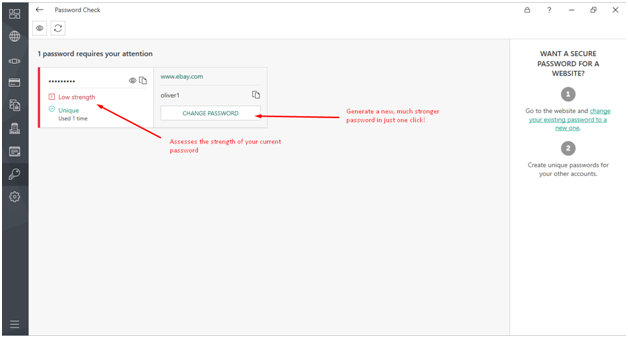 Browser Extension Feature
Being able to surf the web or create online accounts and automatically store the relevant data and password instantly has become a key feature for most password managers. However, not all password managers will include a browser extension in their platform.
Microsoft's Password Padlock is a prime example, and we all know that relying on your browser's built-in password manager (like Chrome's for example), is absolutely a bad idea!
Kaspersky includes a browser extension with their password manager that's easy to use and easy to set up. You can get a browser extension for Chrome, Internet Explorer, Microsoft Edge, Firefox, Safari for OS X and Yandex.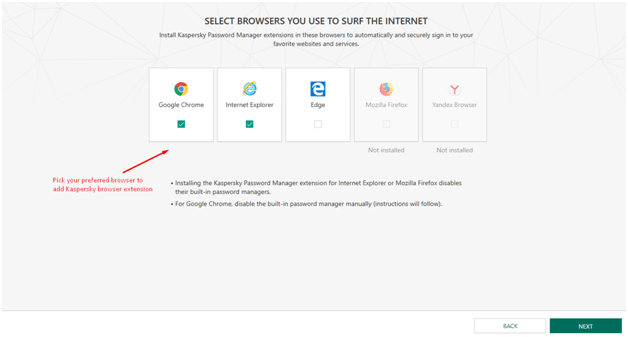 Other Features to Watch Out For
Aside from an easy to use and comprehensive password analyzer and password generator, browser extensions, and an all-encompassing vault, Kaspersky still has one or two more tricks up its sleeve. If you're new to Kaspersky password manager, you can easily import all of your passwords and data from a number of leading password managers including Dashlane, AgileBits, LastPass, 1Password, Norton Identity Safe and others.
Furthermore, you can create a backup file of all your data, export it, print it or store it in your preferred cloud. Another feature which I haven't seen in that many other password managers, is the option to store images in your vault. In the premium version, you can store as many as 3,000 images, each with a size of around 6 MB per image.
Even better, Kaspersky will automatically compress image files of a larger size. To my surprise, I found that Kaspersky would analyze images stored on my PC to see if they may belong to important documents or relate to documents in some way, and then automatically import them to my vault for me.
Kaspersky Plans and Pricing
The Kaspersky password manager comes in two options only, a free version and a premium version. The difference with Kaspersky's free version and other password managers is that you still get to try out most of the features and services – it's actually free, rather than a free trial.
I've often found that with most free password managers, a number of key features are just not available to you until you decide to purchase the full version. The way that Kaspersky does it, is to limit the amount of entries that you can make to your vault to just 15. You still get auto sync, the browser extension feature, password generator and the other functionalities, but as mentioned before, the free version is limited to only 15 entries.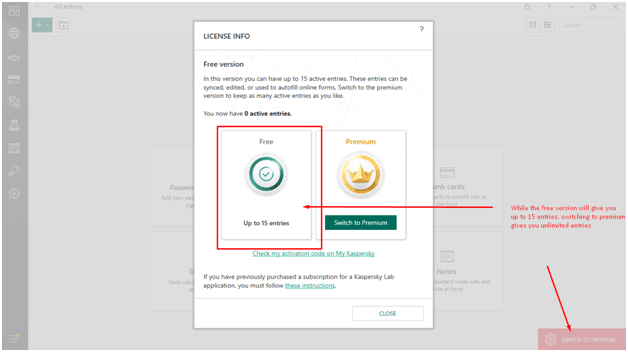 Of course, switching over to the premium version will give you unlimited entries plus every single feature and service. In fact, I found that I had to download the free version to begin with, which is actually quite a neat idea.
This way, you get to try it out first and then, if you like it, you just need to click on the 'Switch to Premium' button to get the paid service. Kaspersky password manager is still cheaper than a number of other leading password managers and is certainly well-worth the expense of going with a paid version. While it may lack some of the features or complexities of other password managers (Dashlane, for example), for the price I feel that Kaspersky hits the mark for the average user.
Kaspersky Ease of Use and Setup
Kaspersky is one of the easiest password managers to install, set up and use. The process starts by visiting the Kaspersky website, where you can choose to download the password manager for different systems including Windows, Mac, iOS and Android.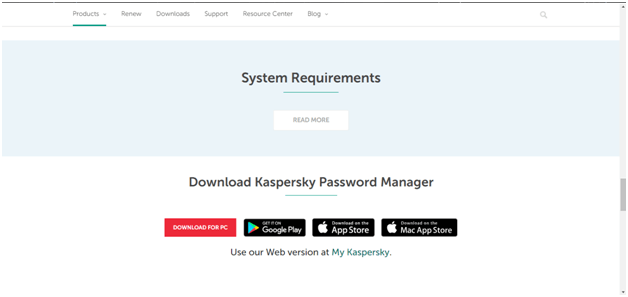 Downloading the free version and setting it up takes less than two minutes to complete and you can start using it right away. While it does limit you to just 15 entries, I found that this was a great way to test each of the available features in a "real world" setting.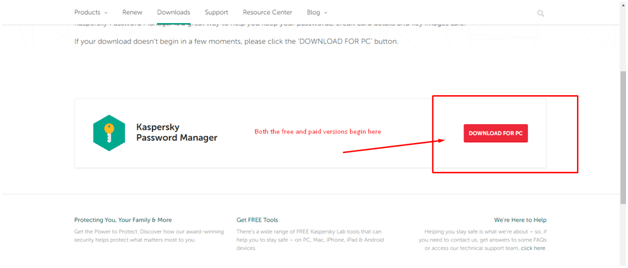 The installer automatically adds a browser extension, which in my case was Chrome (it'll automatically detect what browser you're using), and then offered to import all of my existing passwords already stored in my Chrome browser, along with creating my brand-new Kaspersky account. This includes creating an account password which is separate from my master password.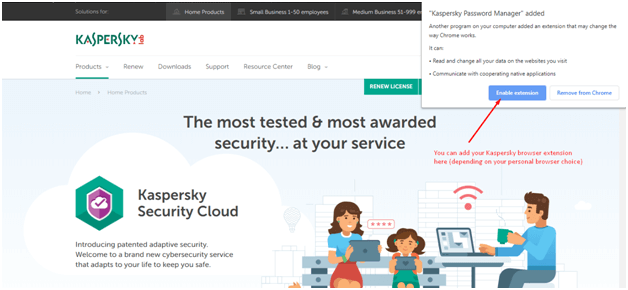 I found the clean and minimalistic UI to be quite attractive, although some might feel it's a bit too austere and reminiscent of Kaspersky's typical all-business functionality. However, if you're new to password managers, or are looking for something a bit more straightforward, this might be the perfect password manager for you.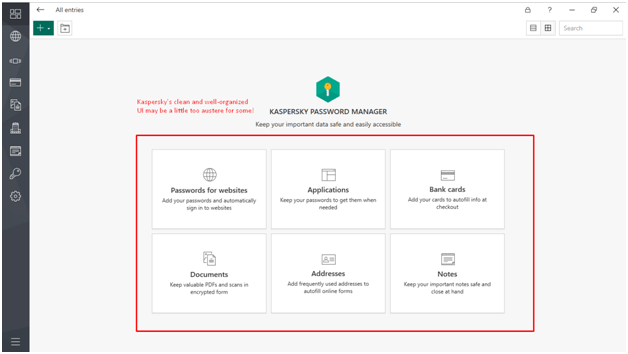 This menu page will actually disappear once you start making entries and will instead house everything in the toolbar menu on the left. Either way, it makes for a clean and fast user experience.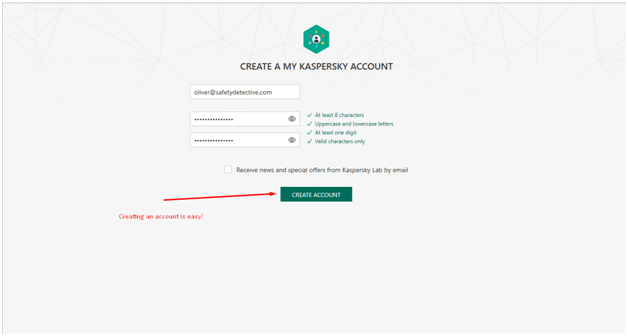 Kaspersky guides you through the account set up phase, and ensures that you've chosen a solid password for your Kaspersky account. You can then choose your master password to get the ball rolling and start to populate your password manager with passwords, documents, images, notes and other data. Kaspersky will automatically analyze your password for uniqueness and strength to help you choose a solid master password that isn't easily guessed, but also easy for you to remember.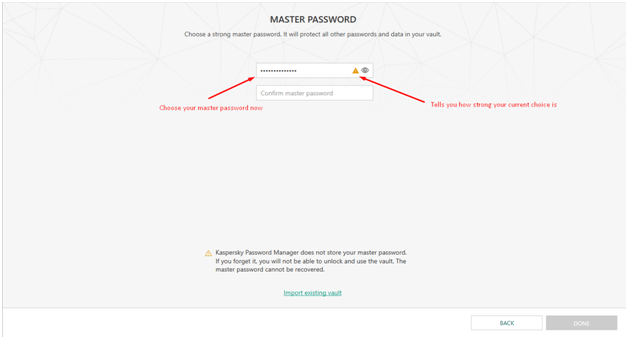 Once I had the free version all set up, I decided it was time to upgrade to the premium version. Now I could finally start to use all of the available features and import passwords and other data to my new, bigger and better password manager. Getting the premium version involves purchasing an activation code from the Kaspersky website and then adding it to my already installed free version.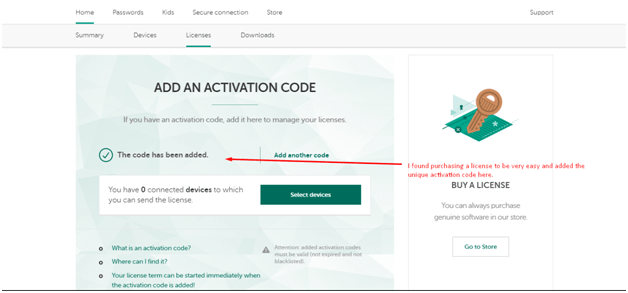 After that, I was up and running and ready to automatically add my existing passwords to my password manager.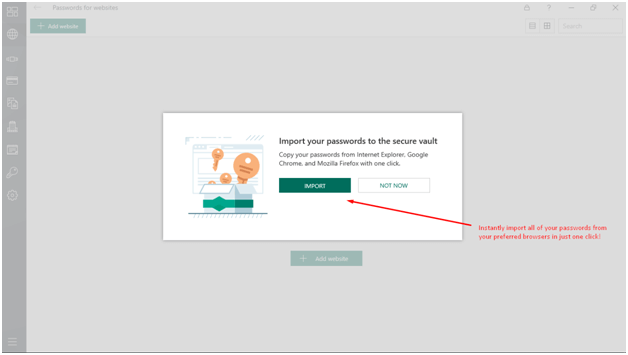 I spent the rest of my time exploring what this password manager could do, including adding address info, documents and images, checking password strengths of old accounts and then generating much stronger, new passwords for those with weak or outdated passwords, adding some credit card info and one or two other things.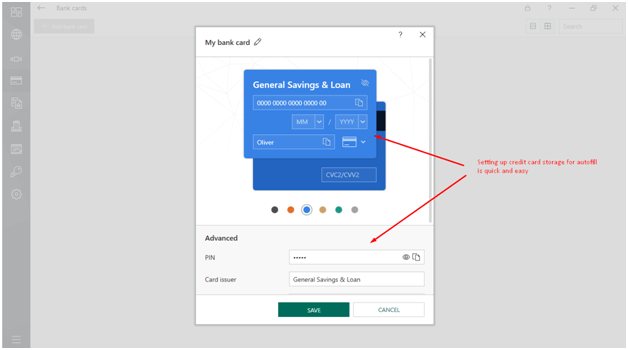 I found that adding anything I wanted to store in my vault, such as credit card info, was really intuitive and easy to do. From this point of view, I have to say that I quite like how Kaspersky set up their password manager, I'm not a fan of overly complicated programs with steep learning curves, but that's just me.
Kaspersky Security
Kaspersky's security features are a bit of a hit and miss in some regards. For one, it uses the industry standard AES-256 encryption for everything that gets stored in the vault including passwords, notes, documents, images, addresses, credit cards and so forth.
However, one security feature that's missing, and one that many users expect to be a standard by now, is two-factor authentication, which you'll find in other password managers like Dashlane.
While Kaspersky uses the zero-knowledge model (meaning Kaspersky doesn't store any of your data), this lack of two-factor authentication really didn't sit well with me. It's a very basic security feature that pretty much every other password manager has as standard (and some, like True Key have about 15 2FA options to choose from). I just don't know why Kaspersky went with this strange choice to not include any basic extra security.
Kaspersky Customer Support
Getting support through Kaspersky customer care can be a bit tricky. This is because the Kaspersky password manager is just one of many products in the Kaspersky range, and each product shares a central website support center. That said, the support on offer is quite deep and includes a thorough Frequently Asked Questions (FAQ) page, community support, technical support and resources, email support and of course, live chat support. This is already more than other password managers – I'm looking at you, Myki – has on offer).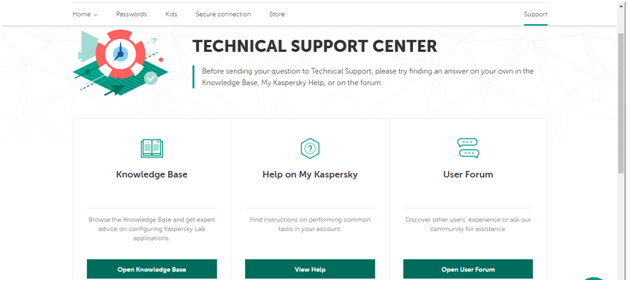 Browsing through the FAQ section or the community support forums can go a long way in getting you the answers that you need. You can also create a technical support request directly from Kaspersky's support page on their website.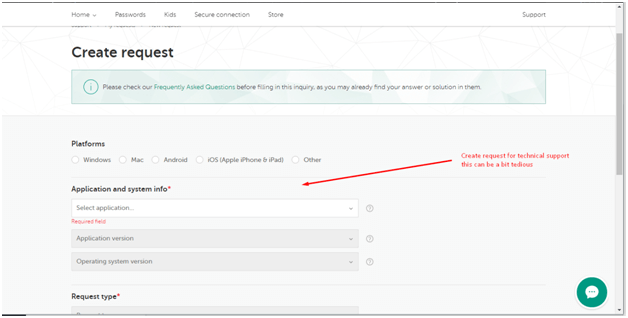 However, I found that contacting their live chat service was the fastest way to get answers related to their products.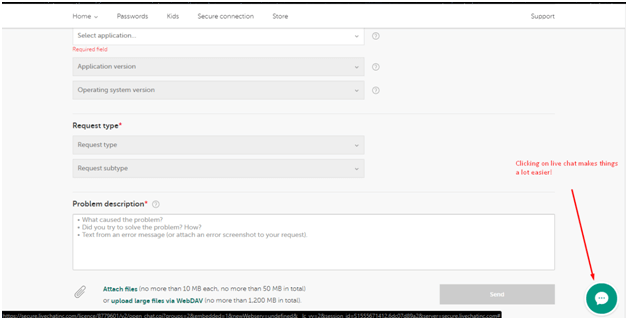 Clicking on the live chat icon at the bottom of the support web page brings up an intuitive dialogue box and interface. You simply add your email address or username, your question and send it. I decided to test out the response time with a basic question about their lack of two-factor authentication. Within a few seconds, a support consultant named Vlad engaged me and replied to my question. Not bad at all!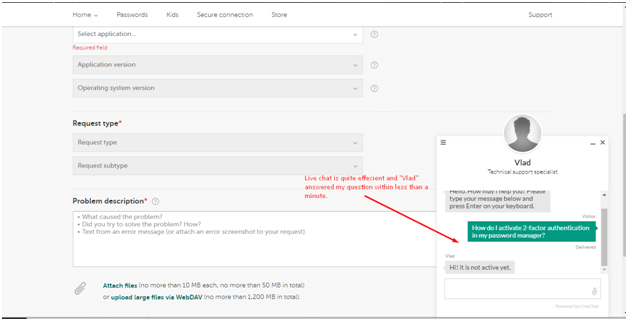 Requesting a Refund
Requesting a refund for my password manager was not as straightforward and easy as I thought it would be. There's no real information upfront anywhere in the application detailing how to go about requesting a refund. I had to go to the website and sift through the FAQs to find some information on requesting a refund.
From there, I was redirected to a short answer telling me how to request a refund based on the method of purchase. If I'd bought the product in a physical store, I would need to return to that store. For online purchases, I would need to go through an agent to request a refund. All in all, a bit of a pain to be honest.